What to See in Yellowstone National Park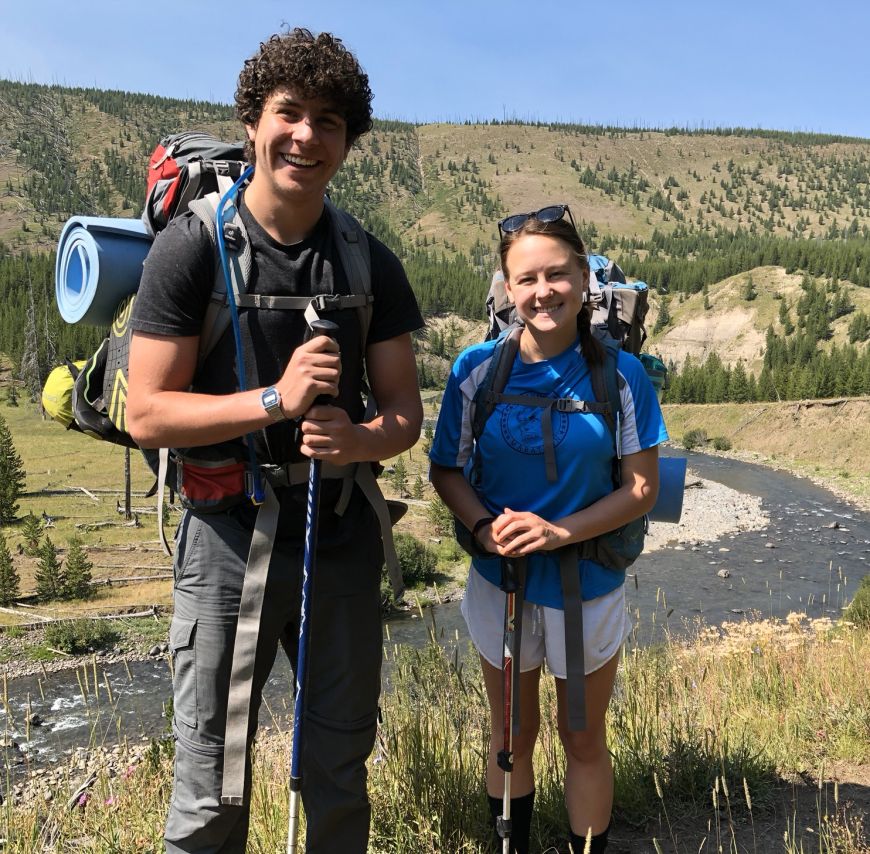 When it comes to Yellowstone, you can't go wrong with sightseeing. Show up and you are going to see something incredible. But it can be overwhelming. It's a big place, larger than some Eastern states, at 2.23 million acres. Waterfalls and canyons, rivers, lakes, thermal features, wildlife, big mountains, forests, meadows…and don't forget the visitor centers and historic structures.
What you choose to see depends partly on how much time you have. You'll want to prioritize if you only have a day or two. With
three or more days
you can cover the drivable part of the park pretty thoroughly, with some good walks thrown in.
Land of the Geysers
Yellowstone is most famous for its thermal, or hot springs, features, the result of the massive volcano simmering under the park. These are must-see! While there are over 10,000 of them scattered across the Park, there are more than enough features to see in the geyser basins accessed by boardwalks.
Old Faithful
Old Faithful geyser is the most famous feature in Yellowstone, and is often very crowded, but it's famous for a reason. Erupting about every 93 minutes, over 100 feet tall, this is one geyser that's easy to catch. Get there early for better viewing. As long as you are there, go check out some of the other thermal features. There are dozens of geysers right nearby.
Don't leave Old Faithful without craning your neck in the lobby of the Old Faithful Inn, a national historic landmark built in 1904 entirely out of local logs. And peruse the excellent exhibits in the Old Faithful visitor center, where National Park Service rangers wait to answer your burning park questions.

Castle Geyser
Castle Geyser is just a 1/3 of a mile walk from Old Faithful, and it is magnificent, erupting once or twice a day on a predictable schedule. Not far beyond Castle is Grand Geyser, the world's largest predictable geyser, erupting over 200 feet high. Be sure to walk Geyser Hill as well, for the wide variety of thermal features there. If you are lucky you will see Beehive geyser, a startling, fire-hose like feature that might even get you wet with its spray.


Black Sand Geyser
Not far from Old Faithful are Black Sand Geyser Basin and Biscuit Basin. Even if you don't have time to walk the loops there, be sure to catch Cliff Geyser at Black Sand and Sapphire Pool at Biscuit, both close to the parking lots.

Norris Geyser
Did you know the world's largest geyser is in Yellowstone? And it's not Old Faithful. Steamboat Geyser erupts so high it dwarfs all other geysers, towering over the treetops 300 to 400 feet high! Steamboat has been in an intensely active phase for two years, erupting as much as twice a week with huge blasts followed by hours-long steam phases. Find it at Norris Geyser Basin, also home to many other fascinating features.

Natural Wonders of Yellowstone National Park
Grand Prismatic Spring
Grand Prismatic Spring has attained must-see status too. It's the biggest and possibly the most colorful hot pool in Yellowstone. For the full effect, see it from the overlook trail to the west of the pool. Keep driving north to the Fountain Paints Pots, where you can see all 4 types of thermal features in an easy loop walk, including spectacular spouting mud pots.

Mammoth Hot Springs
Nowhere else on Earth do you find travertine mineral terraces built by hot springs. The colors and shapes at Mammoth make it almost dreamlike, especially on a misty morning. Take in Palette Spring for an easy first look then proceed to the top of the terraces and walk down to the mind-blowing hot waterfalls of Canary Spring. The newly remodeled Mammoth Visitor Center is nearby, as is the historic Fort Yellowstone, where the US Cavalry built their base when they managed Yellowstone over a century ago.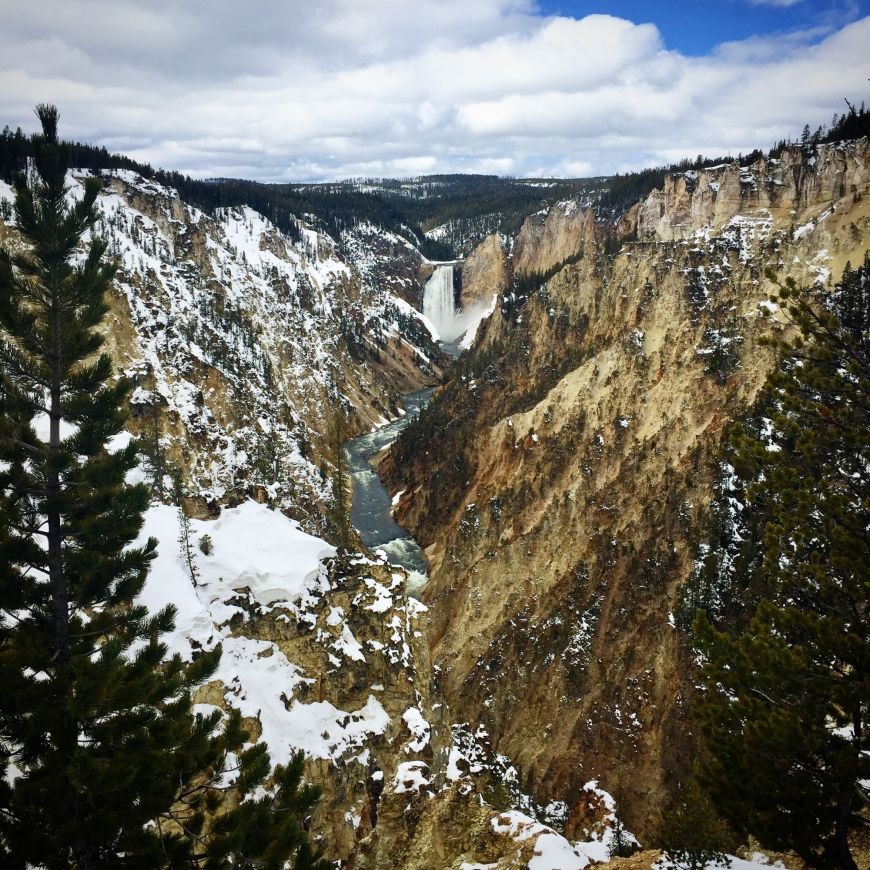 Grand Canyon of the Yellowstone
For jaw-dropping, acrophobia-inducing scenery don't miss the Grand Canyon of the Yellowstone River. Here the Yellowstone River roars over two huge falls into one of the most colorful canyons on Earth. Take in the view from both the North and South rims, and spend some time at Artist Point, Uncle Tom's Overlook and Lookout Point. There are other viewpoints along the rim, all worth the time, plus some fantastic hiking along both sides of the canyon. While you are there stop into the Canyon visitor Center for a great overview of park geology including the supervolcano.
Yellowstone Lake and West Thumb
A vast shimmering mirror perched at nearly 7800 feet, Yellowstone Lake is the biggest high elevation lake in North America. It's home to all manner of fish and wildlife and surrounded by stunning mountain scenery, meadows, and vast forests, and is studded with several islands. Take a walk on the obsidian sand beach at Fishing Bridge or Arnica Creek, do the morning scenic cruise on the Lake Queen tour boat, and experience the lakeside backcountry on the Storm Point Nature Trail. Stroll among crystal clear, scalding hot pools at West Thumb Geyser Basin, the only major geyser area found along the lake. Be sure to stop in for lunch or a cocktail at the magnificent Yellowstone Lake Hotel, oldest hotel in any national park.
Hayden Valley
While you may encounter wildlife nearly anywhere in Yellowstone, some areas stand out for their diversity and abundance of wild animals. In the center of the Park, between Canyon and Lake, is the glorious Hayden Valley, once an arm of Yellowstone Lake and now a magnet for big critters and birds alike. Sometimes known as the Valley of the Buffalo, Hayden is famous for its bison herds which, during the mid-summer breeding season, can cause a frenzy of tourist activity. But Hayden is also home to wild wolves, a large number of grizzly bears, herds of elk, and foxes, coyotes and eagles. The Yellowstone River meanders through the valley, adding to the scenery and attracting all manner of birds from white pelicans to great blue herons, geese, harlequin ducks, trumpeter swans and mergansers. Bring the binoculars and spotting scope.
Lamar Valley
Yellowstone's Northeast corner, known as the
Lamar Valley
, feels like its own national park. Vast meadows dotted with huge granite boulders spread across valleys bounded by steep cliffs and big snow-capped mountains. You are off the main park loop roads here so it's a little quieter, with no stores or hotels. What you do find in abundance is wildlife. The lower Lamar Valley, sometimes called Little America, teems with pronghorn antelope, bison, mule deer and black bear. In the upper Lamar, grizzly bears and wolves roam the valleys in the early or late day half-light, stalking elk. Badgers and coyotes sometimes hunt ground squirrels together in a surprising pairing. Birds of prey ride thermals, seeking rodents to catch, while osprey hover over the rivers, diving for trout to feed their young. Scattered herds of elk roam the ridges, keeping watch for predators. Otters swim after schools of cutthroat trout in the cold, rushing rivers.
There are few places in North America with such a diversity and abundance of
watchable wildlife
. For the full effect, try mid to late spring, when there are a lot of baby bison and elk to be seen, as well as bear cubs. Or try mid-summer during the bison rut, when the ground shakes with the fighting of the massive bulls. Wolf pups may start to appear at this time as they venture further from the den where they were born.
With wildlife watching, timing and location are key, as the animals can be unpredictable. Consider hiring a knowledgeable tour guide who can get you to the right place at the right time and set you up with spotting scopes and inside information on the incredible wildlife of Yellowstone.
Blog post by Phil Knight. Phil Knight is Bozeman local, author, outdoor enthusiast, and guide for
Yellowstone Guidelines
. For tours and adventures in Yellowstone with Phil,
contact us
at 406-599-2960 or
tours@yellowstoneguidelines.com.