Shoshone Lake Trail -
Yellowstone National Park
Shoshone Lake is the 2nd largest body of water in Yellowstone National Park.
On the westerly side of the continental divide, Shoshone Lake has no road access and can only be reached by trail. The lake was named after the Shoshone Native American tribe that would often frequent its shore. This four day backpacking trip is great for first timers.
Distance:
28.5 miles (45.8 km)
Trip Length:
4 days
Trip Rating:
Beginner to Moderate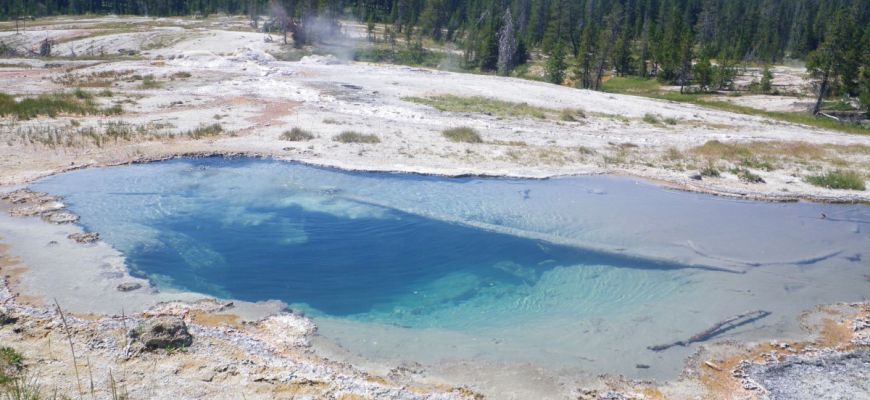 Shoshone Lake Trip Description
Day 1:
The day starts with an early afternoon meet and greet at Mammoth Hot Springs, WY. Your guide will meet and discuss the route, logistics, and field any questions or concerns of the group. This will be an important time to discuss gear and divide any rations among the group. We will drive from Mammoth Hot Springs to the DeLacy Creek Trailhead. The route follows DeLacy Creek to Shoshone Lake and along the shoreline.
Day 2:
The second day is the shortest, allowing time for a relaxing breakfast. The day features a ford of Lewis Channel, the primary outlet of Shoshone Lake. The trail leaves the lake and heads around the southern edge. Hike through Lodgepole Pines and experience the dense forested interior of Yellowstone. Camp is set along Moose Creek.
Day 3:
The third day explores the Shoshone Geyser Basin. This remote thermal basin is missed by many of Yellowstone's visitors. The Shoshone Geyser Basin contains a rich concentration of geysers, hot springs and mudpots.
Day 4:
Enjoy another scenic view from camp along the bluffs of Shoshone Lake. Camp is along the northern shores of the lake. The last day is filled with great views along the lake. The day offers great swimming opportunities on hot summer days. The trail ends at the DeLacy Creek Trailhead.
Shoshone Lake Guided Trip Includes:
Knowledgeable wilderness guide
All of your food and snacks
National Park Service backpacking permits
Gear (backpacks, sleeping pad, sleeping bag and tent)
Transportation logistics
Shoshone Backpacking Trip Pricing:
$1400
per person for 4 days and 3 nights / minimum of 2 people
$1750
per person for 5 days and 4 nights / minimum of 2 people
Discounts are available for large groups and participants bringing their own "gear" (backpacks, sleeping bags, tent, sleeping pads, plate/bowl, mug, and cutlery).
Now booking Summer 2023 Shoshone Lake Backpacking Dates
Contact us

for pricing, dates and availability