Yellowstone Winter Wolf Tours
Unlike summer, where the wildlife of Yellowstone is spread all across the park, Yellowstone winters bring all of the non-hibernating animals into the low valleys. For the wolf packs of Yellowstone, this means a prime opportunity to feed and survive. For photographers, Yellowstone winter wolf tours mean the best opportunity to capture wolves as they explore, play, hunt, and defend with their pack.

We start our day before sunup to position everyone for the best opportunity to capture the first rays of sunlight gracing the park; a pristine experience that makes the early morning absolutely worth the trip. We are then on the hunt for the wolf packs, which our experienced guides follow constantly, to bring you into the optimal distance to capture the wildlife of Yellowstone National Park. Telescoping lenses are highly recommended for photography to capture the best photos, while spotting scopes and binoculars are provided for anyone looking to simply observe.



Why People Love Yellowstone Wolf Tours
With all of the prey animals for the wolves grouped together there is a chance for a once in a lifetime photo. While the animals are the ones who decide the days activities, tours have experienced watching fights for survival, playing, and abundant activity that brings smiles to everyone's face. Wolves are such a fascinating creature, making this tour the top of many photographers list.
Wolf Tour Sample Itinerary
The day starts with an early pick up from your place of lodging. Take advantage of the late sunrise and drive towards the Lamar Valley under the cover of darkness. See the early morning sun and alpen glow, while discovering the animal activity of the previous night. After searching for wildlife, discover the Mammoth Terraces, the largest active travertine terraces on earth. The clear and crisp air of winter provides great photo opportunities. Winter tours and wildlife watching are based near the north entrance to Yellowstone. The town of Gardiner, Montana and Mammoth Hot Springs, Wyoming are the typical starting points for winter tours.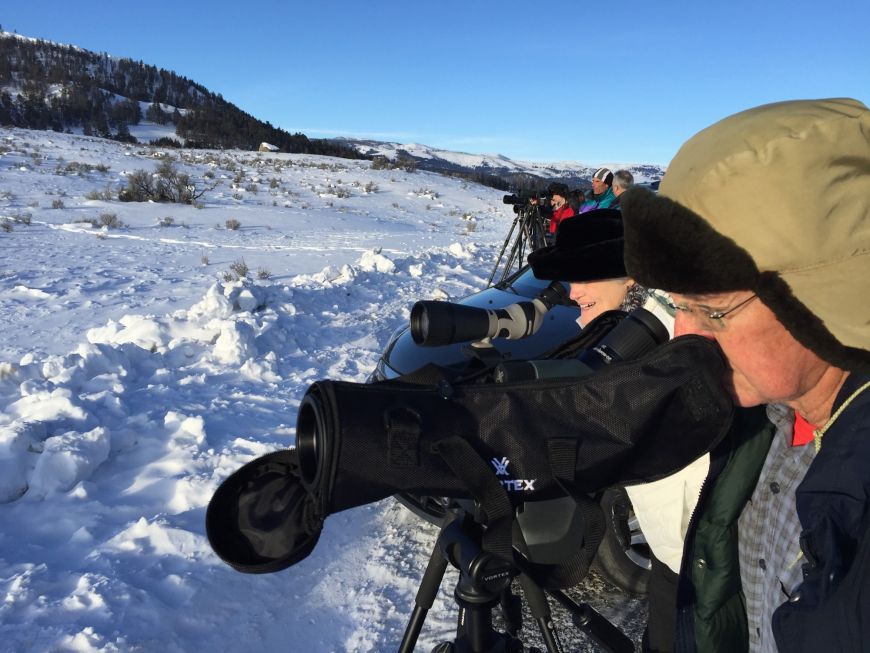 Yellowstone Winter Wolf Tour Pricing
$700 per day for a party of 1 to 2 people
$750 per day for a party of 3 to 4 people
$75 for each additional person
Call for groups of 7 or more.
All rates are daily, not per person
All Winter Tours are based out of the north entrance to Yellowstone near Gardiner, MT. Tours are custom and include naturalist guide, viewing scope, binoculars, transportation, snacks and hearty lunch. Vegetarian, vegan, and gluten free lunch options are available. Trips do not include Yellowstone National Park entrance fee and guide gratuity.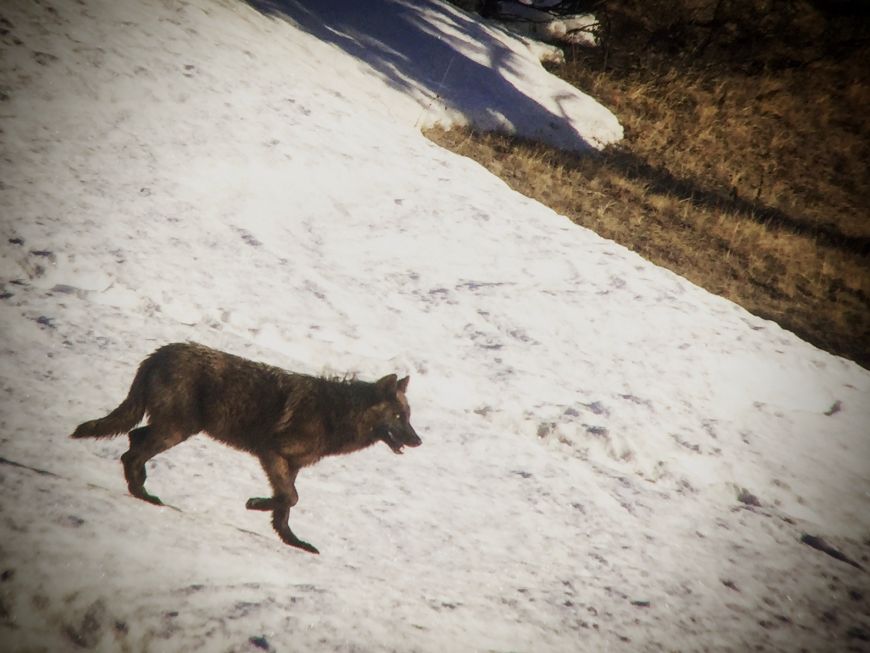 Book Now!