Testimonials From Yellowstone
We love sharing Yellowstone. Our neck of the woods is like nothing else. We love seeing the pure joy on people's faces when witnessing their first geyser, or the feeling of excitement upon viewing a grizzly bear, or the feeling of accomplishment when hiking to the top of a remote peek. Your new memories are waiting!
Hear what our clients have to say:
My family and I spent an excellent day with Chris Hondorf in late September. We wanted to make the most of our very limited time in Yellowstone and a private guided tour seemed the best way to do this (with lunch included). Chris made sure we squeezed as much as possible from our time with him. His ability to spot wildlife was astounding and we were lucky to see a wide range of animals in their local habitat. It quickly became obvious that he is well known and respected in Yellowstone and we benefited from his depth of knowledge and experience of all that Yellowstone has to offer. A great day and well worth the early rise. Thank you Chris, it was excellent value for money.
David from Glasgow, Scotland - Trip Advisor
Chris picked us up around 530 from our place. Had coffee and drinks for the kids. From almost the moment we entered the North entrance we met wildlife. Despite the forest fires burning in different locations around the park Chris took us to many places where we saw fox, deer, coyote, bison, eagles, black bear, etc. Lunch was provided at a lovely quiet place along a stream and we enjoyed it. And to cap off our experience, Chris suggested a place we could try later that early evening about six miles north of our location where grizzle bear can often be sighted. Sure enough we ended our day seeing two juveniles who were rooting around on the ground eating roots. What a day. Worth every penny.
Peter from Alexandria, VA - Trip Advisor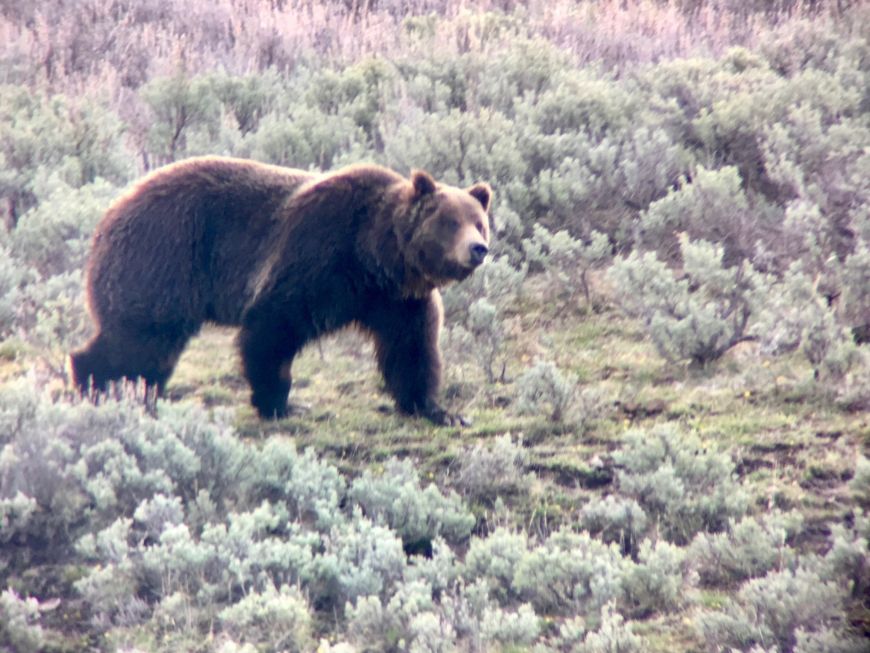 Yellowstone Guidelines set up our family of four (two kids under the age of 10) with a private step on tour guide for a one day, "let's try to see all that we can" trip of a lifetime. We could not have been happier. Molly was great! She was super knowledgeable, so patient with our kids and all of their questions as well as ours. She was able to show us an osprey nest through an amazing scope and even spot a wolf den. We never would have gotten to see all of the nooks and crannies that she was able to show us. I would highly recommend using Yellowstone Guidelines and definitely request Molly, she is a gem!
Penny from NYC - TRIP ADVISOR
My family and I enjoyed our tour so much yesterday, we are still talking about it today! Our guide, Chris was not only super knowledgeable, he made sure we had everything we needed! He picked the 5 of us up directly from our Airbnb rental, drove straight to Yellowstone and immediately started giving us info about Pray, Bozeman, the park, etc. One of my favorite things was that he would stop on the side of the road from time to time with his binoculars to spot animals that we couldn't see! Also, if we wanted to stop to take a photo, he made sure it was a good and safe place. The lunch served was great and we enjoyed all his jokes!!! I would highly recommend Chris and the touring company to my family and friends. We already can't wait to come back again to explore more of Yellowstone! Thank you, Chris!
Carmina from Seattle, WA - Facebook
This was my 3rd time with Chris from Yellowstone Guidelines. He once again delivered on all the great spots for wildlife. Saw several grizzly bears and wolves in the Lamar valley area. We spotted numerous black bears in the northern part of the park as well - several of them with young cubs. Found two great owls nests with young owls visible. All sorts of other animals as well - a fox, numerous coyotes, eagles, sand hill cranes, elk,bison, pronghorn, deer, and a great spotting of a large ram bighorn sheep. Chris also provides great knowledge of the park and its history. Saw him the next day as well while on my own in the park and he gave me some great tips on some great new wildlife sightings that day which worked out very well. Would once again highly reccomend Chris and Yellowstone Guidelines!
Corey from Ohio - Trip Advisor

Wanna read more reviews of Yellowstone Guidelines?
Please check out our
Facebook
page,
Trip Advisor
, and
Yelp
Reviews for additional info.
Book A Tour Now!