Guided Yellowstone Backpacking Trips
For millions of people, touring Yellowstone National Park means visiting Old Faithful and the Paint Pots. While completely unique in their grandeur, this is just a tiny peak at what awaits for those who are ready to explore with a guided backpacking trip in Yellowstone National Park. With over a thousand miles of trails across the Yellowstone biosphere, you can find one of the last great wilderness experiences.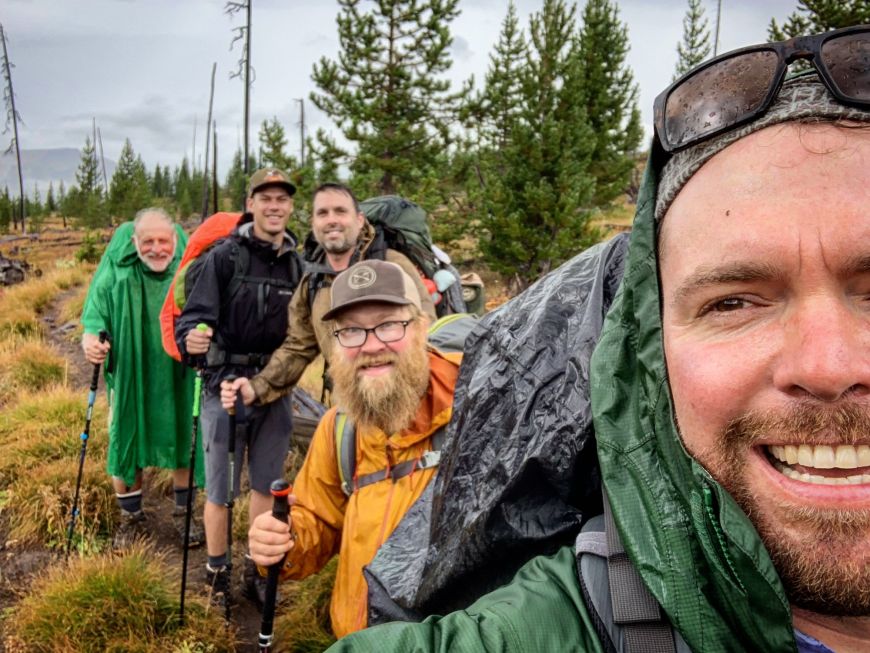 Finding The Hidden Beauty of Yellowstone
A backpacking trip with Yellowstone Guidelines is the best way to see the hidden beauty and gems that Yellowstone National Park has to offer.

When you explore beyond the roads of Yellowstone you have to simply choose your adventure. If you are looking for the beauty of a remote waterfall you can plan a trip to the Bechler River Trail. If you want vast mountain views, wild flowers, and animals, then Pebble Creek could be a great trip for you. If high alpine terrain is your favorite, check out the Gallatin Mountains. Yellowstone has so much to explore, and every trip we offer can be customized to match your skill level, your endurance level, and what you are looking to see. Contact us to start planning your backpacking trip.

Our Most Popular Backpacking Adventures:
Bechler River Trail
- Yellowstone's Cascade Corner

Length: 30+ miles, minimum of 4 days
Difficulty: Moderate to Advanced
Description: The Bechler River Trail is widely considered the best backpacking route in Yellowstone. The Bechler is famous for the abundance of waterfalls, cascades, rivers and creeks.
Learn More...

---
The Black Canyon of the Yellowstone
Length: 18+ miles, minimum of 3 days
Difficulty: Beginner to Moderate
Description: The Black Canyon of the Yellowstone is a one of the most iconic backpacking routes in the whole park. The Black Canyon offers great scenery, mountain views and is rich in wildlife. This canyon is only seen by those adventurous enough to trek to the parks remote reaches. The trail is rated moderate and is the best early season backpacking trip. The trail features some variety in terrain, dropping over 1,000 ft in elevation, following the Yellowstone River to the park's boundary. Learn More...
---
Pebble Creek and Yellowstone's Northeast Corner

Length: 12 miles, minimum of 2 days
Difficulty: Moderate
Description: Pebble Creek is located near the Northeast Entrance to Yellowstone and Lamar Valley. This backpacking route features great mountain views, wildflowers and potential for wildlife. Pebble Creek is a great backpacking route for all skill levels.
Learn More...
---
Gallatin Mountains
Length: 32 miles, minimum of 4 days
Difficulty: Moderate to Difficult
Description: The Gallatin Mountain Range consumes the the northwest of Yellowstone with high mountain peaks, lakes, and rich forest. This mountain range is a key wildlife corridor to many of the animals in Yellowstone including the grizzly bear. This hike features great high and remote mountain scenery, views of Electric Peak, and feeling of being alone in the wilderness. Learn More...
---
Design Your Custom Yellowstone Backpacking Trip
Design your custom trip with Yellowstone Guidelines at no extra cost. Trips start at $275 per day per person, minimum of 2 people. All trips include an experienced backcountry guide, transportation logistics, meals, gear, and bear spray. We can provide discounts for those whom are bringing their own gear and are just looking for a guide and some assistance in the backcountry.
Want more? We can also design a
custom trip
on a route of your choosing for no extra cost.
We are now booking Backpacking Dates for the 2023 season.
Don't want to overnight in the backcountry, maybe a guided day hike in Yellowstone is a better fit. We also offer private guided tours of Yellowstone and winter wolf tours. Call, email, or contact us for additional questions.