Snowshoeing Tours in Yellowstone
Winter in Yellowstone is a magical place, and a hotspot for adventurous photographers. Wildlife, which is often spread all across the park in the summer, groups together in the lower valleys such as Lamar Valley. While many are happy to explore the sparse roads of Yellowstone, those looking for more adventure will want to take part in a private guided snowshoeing tour of Yellowstone National Park.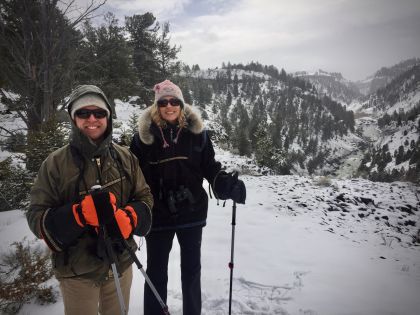 Why Snowshoe in Yellowstone?
Snowshoeing is a classic winter pastime. Dating back to over 6,000 years, indigenous peoples would use snowshoes as a method of travel to tackle cold and snowy conditions. Snowshoeing provides the perfect balance of hiking and enjoying the solitude of winter. Winter is a quiet time in Yellowstone. The crowds are gone and snow blankets the landscape of the northern Rockies. Winter is a special season in Yellowstone! Experience the winter with a guided snowshoe tour.

Yellowstone Snowshoe Tour Details and Itinerary
The day will start with a pick up from your place of lodging. Entering through the park's north entrance in Gardiner, MT, we will drive to the snowshoe trails. Snowshoe tours utilize all the trails in the north of Yellowstone between Mammoth Hot Springs to the northeast entrance near Cooke City, MT. During the day, your personalized guide will instruct on the fundamentals of snowshoeing while keeping everyone safe and comfortable! Throughout the day you will learn about the winter ecology, history, geology, and all aspects of Yellowstone, including the winter wildlife like wolves, elk, moose, bison, and coyotes.
Yellowstone Snowshoe Tour Pricing: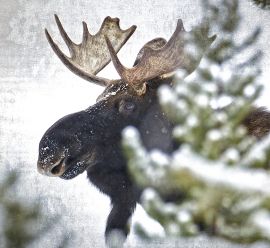 $675
per day for a party of 1 to 2 people
$725
per day for a party of 3 to 4 people
$75
for each additional person
All tours include professional guide, transportation from your hotel or place of lodging, use of viewing scopes and binoculars, hearty lunch and hot drinks. Vegetarian, vegan, and gluten free lunch options are available. Tour does not include Yellowstone entrance fee and guide gratuities.