Yellowstone Winter Wildlife Tours
No matter the season, Yellowstone remains simply picturesque. What makes Yellowstone winters special, though, is the lack of constant crowds. Replacing the long lines of cars throughout the park are eager photographers looking to capture exquisite photos of the animals who call Yellowstone their home through the winter. The most common species to see on a winter wildlife tour are wolves, which is the most popular destination, elk, bison, eagles, sheep, mule deer, moose, coyotes, and foxes. In summer wildlife is spread all across every part of Yellowstone National Park, but winter brings the masses out of the hills, and into the lower elevations; right where we can find them.


Guided Winter Wildlife Tours With Yellowstone Guidelines
Your adventure will start before sunrise so we can capture that first moment of the alpen glow,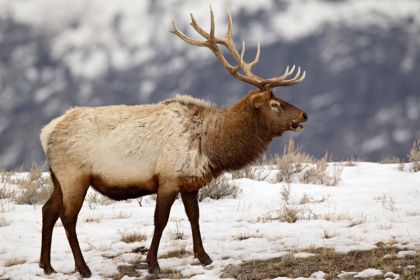 illuminating the signs of animal activity of the previous night. The cool crisp air can make for some incredibly clear photos of the Lamar Valley. We will then begin our excursion locating the wildlife opportunities. The Lamar Valley is called the "Serengeti" of North America because of the abundance of wildlife all around, making this search frequently eventful.

After observing the animals in the Lamar Valley, we make our way through the Mammoth Terraces, the largest active travertine terraces on earth. Located by Mammoth Hot Springs area inside the North Entrance of Yellowstone National Park, you will see these pools and mounds that are constantly changing, growing, and shifting as the mineral rich water pours through them. With the right conditions you can capture the steam coming off of the pools. Experiencing the winter wildlife of Yellowstone is a unique experience perfect for anyone visiting the Livingston or Gardiner areas throughout the winter months.



Yellowstone Winter Wildlife Tour Pricing
$700 per day for a party of 1 to 4 people
$750 per day for a party of 3 to 4 people
$75 for each additional person
Call for groups of 7 or more.

All Winter Tours are based out of the north entrance to Yellowstone near Gardiner, MT. Tours are custom and include naturalist guide, viewing scope, binoculars, transportation, snacks and hearty lunch. Vegetarian, vegan, and gluten free lunch options are available. Trips do not include Yellowstone National Park entrance fee and guide gratuity.
Book Now!