Guided Yellowstone Geology Tours
Yellowstone has the greatest concentration of geysers and hot spring in the world! Come see, learn, and experience the geological wonders of Yellowstone National Park.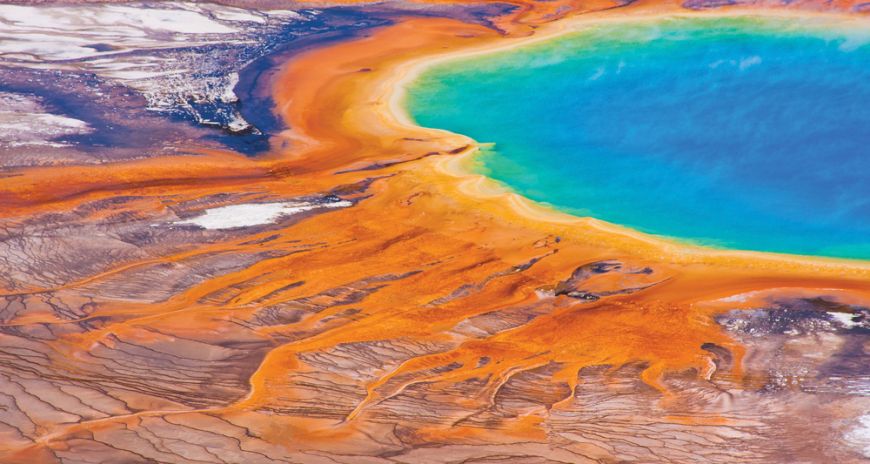 Yellowstone Geyser and Guided Geology Tours Focus on Highlights of Yellowstone National Park
Founded in 1872, Yellowstone National Park was created to protect "Extraordinary scenery and geyser basins". The unique geology of the park is the true essence of Yellowstone. Yellowstone is home to over 10,000 thermal features and 300 geysers including famous features like Old Faithful, Grand Prismatic Spring, and the Fountain Paint Pots. The Yellowstone Geyser and Geology Tour is a great way to see, learn, and experience the volcanic geology and processes of Yellowstone.
Did you know???

Yellowstone is the world's largest active "super" volcano

.
---
Yellowstone Geyser and Guided Geology Tours Notes and Itinerary -

The day will start with a pick up from your hotel, place of
lodging, or a predetermined location. Actual meeting time and location will be decided per group. After meeting your professional guide, drive to one of the various thermal attractions in Yellowstone. Through out the day, your guide will explain the geothermal processes of Yellowstone, the park's history, and ecology. We want everyone to have a great time while understanding the sights and sounds of the park.

Visited sights can include:

Old Faithful and Upper Geyser Basin
Grand Prismatic Spring
Fountain Paint Pots & Lower Geyser Basin
Mammoth Hot Springs
Norris Geyser Basin


Pricing for Guided Yellowstone Geyser and Geology Tour

$750 per day for 1 to 2 people
$800 per day for 3 to 4 people
$75 for each additional person
All rates are daily, not per person
All tours include naturalist guide, transportation from your hotel or place of lodging, viewing scope, binoculars, and a hearty lunch. Vegetarian, vegan, and gluten free lunch options are available. Tour does not include Yellowstone entrance fee or guide gratuity.
If you have any specific requests, we will do our best to accommodate. Please
contact us
for additional questions.
Book Now!