Hayden Valley Wildife Watching
By Phil Knight

At the heart of Yellowstone National Park lies the magnificent Hayden Valley. While much of Yellowstone is blanketed in Lodgepole pine forest, Hayden Valley is a vast open grassland teeming with wildlife. This vast meadow, lying close to 8,000 feet, features rolling hills, islands of trees, and several major thermal areas. The meandering, slow-moving Yellowstone River flows across the bottom of the valley from south to north, a magnet for all kinds of animals.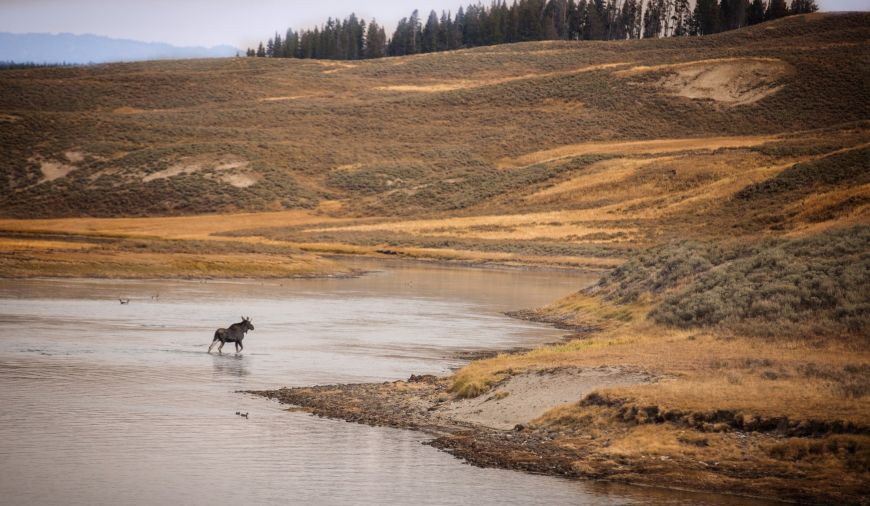 Hayden's history as an arm of Yellowstone Lake means the compact lake-bottom sediments do not support much forest growth, allowing for vast views across the rolling hills and meadows of this gorgeous valley. As you stand in Hayden Valley you are also near the center of the vast Yellowstone Caldera, a huge crater remaining from a massive eruption of the Supervolcano 630,000 years ago.

Wildlife Viewing in Hayden Valley is Plentiful
Hayden Valley, named for Ferdinand Hayden, leader of the 1871 Hayden Survey, is on par with the more famous Lamar Valley as a great place to look for and observe Yellowstone's spectacular wildlife. Here you may find large herds of bison, grizzly bears, black bears, wolves, elk and many other species. River otters chase fish in the Yellowstone, badgers hunt ground squirrels, and coyotes pounce on mice. Foxes are often seen here as well. This is one of the few places in the world where wolves, grizzlies and bison coexist in an area easily accessed by paved road.

In winter, the valley is plunged into the deep freeze but you still find much of the same wildlife (hibernating bears being an exception). It's possible to reach Hayden Valley in winter via a snow-coach tour. The depth of the snow is astounding and it feels like you have arrived in the Arctic.

Timing is Everything For Spotting Animals
Timing is everything for seeing wildlife. Predators like wolves are crepuscular – that is, they are most active at dusk and dawn, when they can move with stealth in the low light. Thus your best bet to see Hayden's resident Wapiti Lake wolf pack is to arrive around dawn and find a place to watch. Bears also like this early time of day. Or come out in the evening and hang out for a Yellowstone sunset.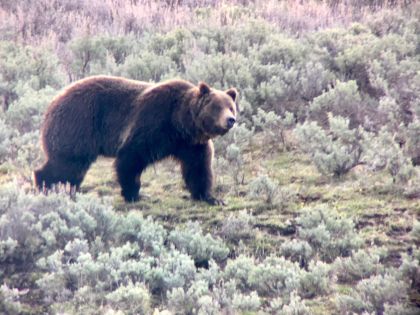 There are several high spots with pull outs along the Grand Loop Road that make for the best vantage points. Grizzly Overlook, near the north end of Hayden Valley, may be the best. By walking across the road and up to a hilltop, you can see both directions across the valley. The large pull outs at the north end of the valley are also good, since the Wapiti Lake pack tends to be most active near here. Or try the large parking area at Trout Creek just south of Sulphur Mountain.

If you are lucky (and a bison is unlucky) you might see wolves or bears gathered around an animal carcass, usually a bison that has not survived the brutal fights of the summer rut. If such a carcass is in view of the road there will be an obvious crowd of people with scopes and cameras watching the action. Look for a parking place and ask around if you can't see what folks are looking at.

Bird Watching in Hayden Valley

If you are a bird watcher – and why not, they are as interesting as any mammal – Hayden is the place for you. Birds of prey such as hawks and eagles ride the thermals above the ridges, while a variety of waterfowl, from pelicans to ducks and geese, make full use of the river and adjacent wetlands. Great blue herons nest at the south end of the valley, and Trumpeter swans dabble in the shallows of the river at the north end.

Don't forget the optics. Binoculars are essential equipment for scanning the landscape in search of animals. Once you have found an animal, break out the spotting scopes on tripods for close observation. Of course, for your safety and theirs, always keep your distance from any animal – use the optics for the close view.

Be Careful If You Choose to Hike
While you are not restricted to the road here, hiking Hayden Valley is not to be taken lightly due to the high possibility of meeting a grizzly bear. The Mary Mountain Trail crosses Hayden, while the Howard Eaton follows the hills on the east side of the Yellowstone River. Always hike in groups of four or more, since this is big-time grizzly bear country. And of course carry bear spray and know how to use it.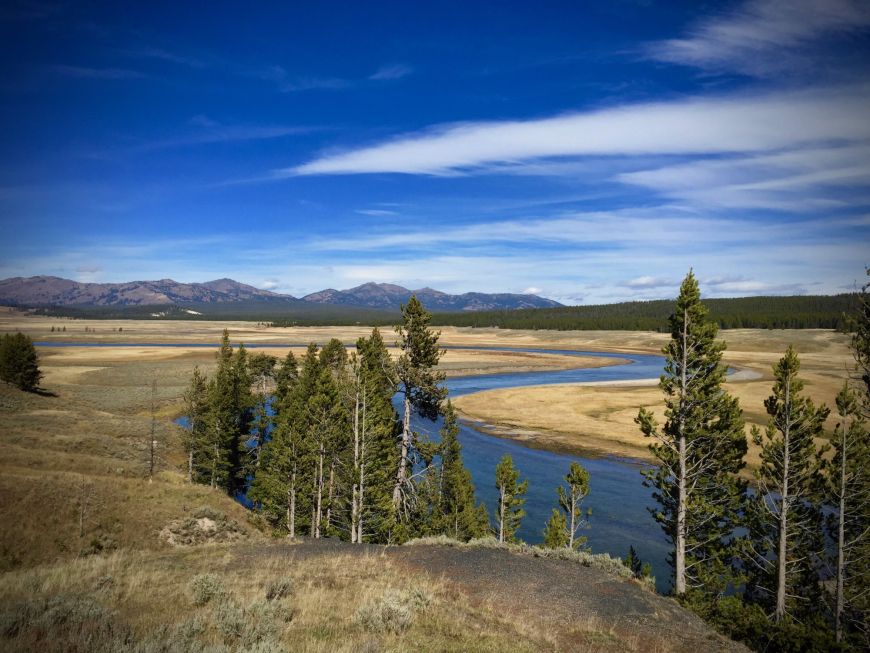 The closest in-park camping and lodging near Hayden Valley is at Canyon Village, only a few miles away, where you also find restaurants and stores as well as an excellent National Park Service visitor center.

Of course, if you want the best chance of spotting the elusive and spectacular wildlife of Hayden Valley, hire a tour guide from Yellowstone Guidelines. Leave the driving and spotting to us, while you observe and learn about the wild and thriving Yellowstone ecosystem.

Blog Post and photos by Phil Knight. Phil Knight is Bozeman local, author, outdoor enthusiast, and guide for Yellowstone Guidelines. For tours and adventures in Yellowstone with Phil, contact us at 406-599-2960 or tours@yellowstoneguidelines.com.