Fall in Yellowstone - Autumn in the Rockies
Nights are getting longer, days are shortening, and soon fall will be in the air. Here in Yellowstone Country, at 45 degrees north, we have real seasons. As snow dusts the high peaks of the Absaroka and Gallatin ranges, frost sparkles on the dying grasses and flowers of summer. Aspen leaves turn gold and begin to fall, trees shutting down in preparation for a long winter. And the bull elk begin to bugle.

Yellowstone Park's autumn season is not to be missed. Make your plans now to visit Yellowstone at this special time. Yellowstone Guidelines can arrange a tour for you to experience Yellowstone's fall magic.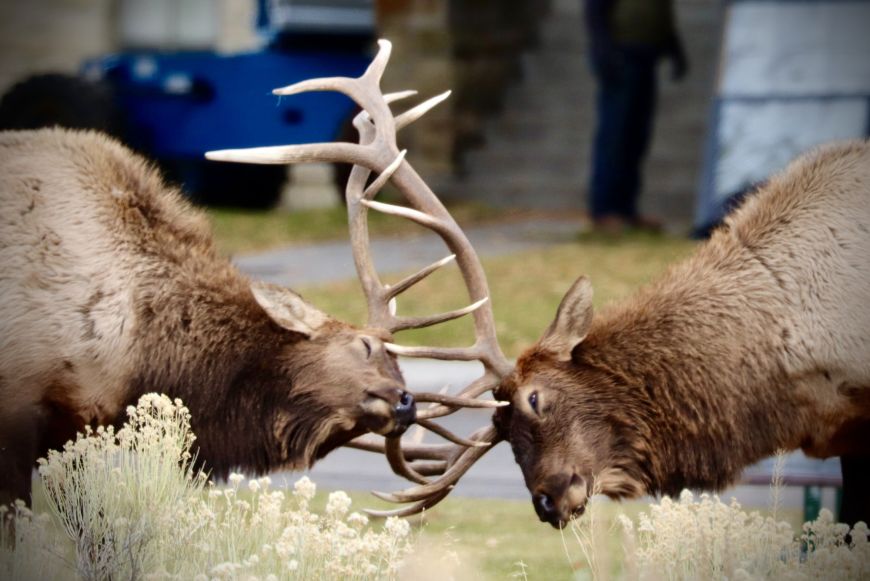 Get in the Rut - The Yellowstone Elk Rut that is…
This is the time of year for the elk rut. Rut is another name for the breeding season of various animals. For Yellowstone's elk – also known as wapiti – the rut runs through most of September and October. There is nothing like the elk rut for sheer display and drama. Bull elk bugle all day and night, their whistling, grunting challenges echoing off the mountainsides and ringing though the still, cold air. Bulls seek to gather up a harem of cow elk with their calves and wear themselves out trying to maintain exclusive breeding rights with their females. And they must fight for it.

A fight between two rival bulls is a sight for the ages, as they lock antlers and push each other around, trying to prove dominance. Their breath billows in clouds above them and their antlers clack and rattle together. Once a victor is decided he will often pose and emit his loudest bugle in triumph. Cow elk watch from the margins, seemingly unconcerned. Calves squeal for their mothers, still needy and vulnerable.

No Crowds and Improving Access in Yellowstone
Crowds have been down this season in Yellowstone due to damage to park roads and infrastructure when massive floods hit the Park on June 13. Many roads and bridges as well as trails and other essential infrastructure were destroyed or damaged, mostly on the north side of the Park. Yellowstone's 150th year has been challenging due to the flood damage and it's important to plan well if you want to visit this fall.

At this time the Northeast Entrance remains closed to all vehicles as repairs are made, and the North Entrance is open only to commercial vehicles (including guided tours) as well as some pedestrian and bicycle traffic. The Lamar Valley, famous for its wildlife abundance, remains inaccessible. All other entrances and roads are open, though access beyond Tower Junction toward Slough Creek is also restricted.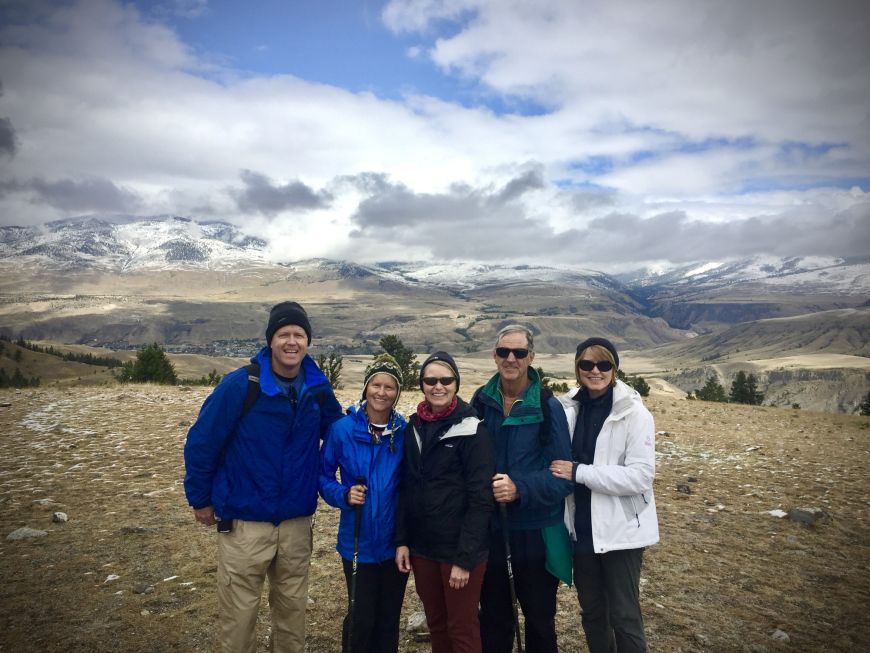 The good news is that both the North and Northeast entrances are projected to open on October 15! That means Lamar Valley should be open at that time. It's a great time to see the park and is typically pretty quiet anyway as it is part of the "off season." In fact most park roads typically close about November 6 in preparation for winter season, which begins with over snow travel in mid-December. The road from Gardiner to Mammoth to Tower and the Northeast Entrance is normally open year round. However, the road beyond Cooke City (the Beartooth Highway) is always closed in the winter and probably will be closed by October 15. Hopefully, once the North Entrance is open (via a temporary road currently being built) it will remain so.

Book A Guided Tour of Yellowstone National Park


It takes some figuring out where to go and when in Yellowstone, especially this season. But it's well worth it – the wildlife show and the scenery are mind blowing. Hot springs and geyser steam and blow everywhere, often creating a thick and atmospheric morning fog over the geyser basins. Storms roll through and may produce rain or snow or a mix of both. Ice begins to form on ponds and on the edges of rivers. Temperatures drop and the wildlife are preparing as well as they can for the long, cold, snowy winter ahead.

Bear and Wolves and Moose Oh My!
Elk are not the only animals in a frenzy. Bears are in the depths of hyperphagia, pigging out on as many calories as possible to build up fat reserves to survive the winter's four month hibernation. They seek out carcasses to feast on since elk calves are too big and fast to catch. Larger male bears will steal kills from wolf packs, creating some major drama for wildlife watchers. Bears also seek calorie-rich pine nuts at higher elevations like Dunraven Pass, and dig up meadows searching for pocket gophers, caraway and biscuit roots.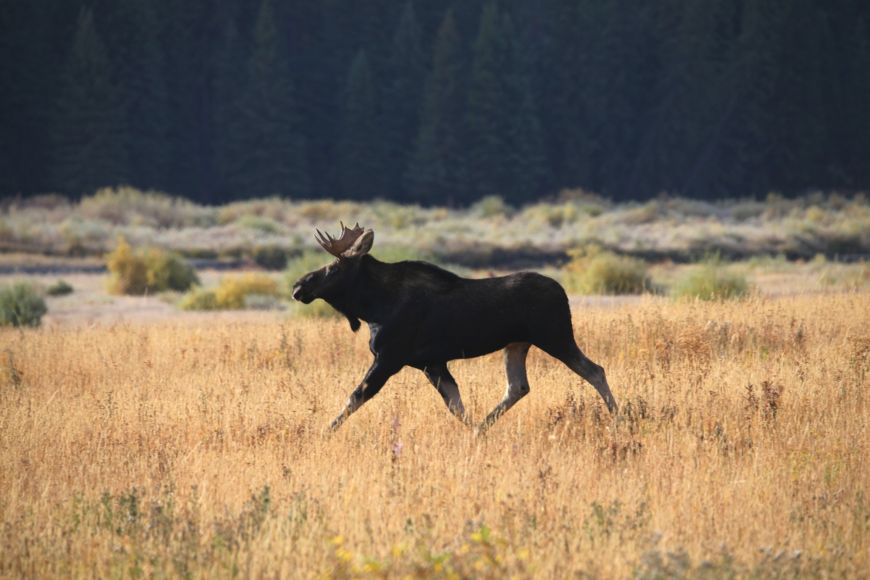 Wolves at this time are long gone from their den sites as the pups (born in April) are nearly grown and can travel long distances. The long-legged pups are learning to hunt with the pack and can often be seen testing bison herds or running fruitlessly after fleeing elk. Wolves cover a lot of territory so it's harder to predict where you will find them, thus more rewarding when you do.

Moose are also in their breeding season in the fall, though they are much more elusive. But bulls will also fight over females and make some grunting calls to lure in the cows. Pronghorn are also very active with the rut and are entertaining with their amazingly fast chases between the males as they show off for their harems.

Where To See Yellowstone's Elk Rut
The best location to witness the elk rut up close is, perhaps surprisingly, right in the town of Mammoth Hot Springs. Cow elk gather here all summer and fall, and the bull elk, aloof for much of the year in bachelor herds, suddenly arrive like a Wild West posse. They chase cow elk, fight, bugle, pee on themselves and even mate right in the middle of town. Of course the elk are also dangerous at this time and you must keep your distance. The park rangers are driven to distraction trying to keep elk and people apart. Bulls will even attack parked and moving cars, and may do considerable damage, so get that extra insurance on your rental car.

You can witness the elk rut elsewhere also, usually at a longer distance, in wildlife hotspots like Lamar Valley, Slough Creek, Hayden Valley, near Canyon Village and along the Gibbon River at Gibbon Meadows or Elk Park. Also watch for them along the Madison River on the West Entrance road, and near the north entrance at Gardiner.

Plan Now, Book Your Tour!
Start planning now. Hotels and rental houses are plentiful in Gardiner at the North Entrance, and should be easy to reserve due to low demand. Plus, Gardiner could use your business, so plan to stay a few days and enjoy the quiet time of year. West Yellowstone and nearby Island Park Idaho have lots of lodging options. Mammoth Hotel will not be open this fall. All other park hotels are usually closed by early October. So you will need to stay outside the park, near West Yellowstone or Gardiner. Park roads may or may not be open as you get into mid-to-late October due to snowfall. But most roads are usually passable into October.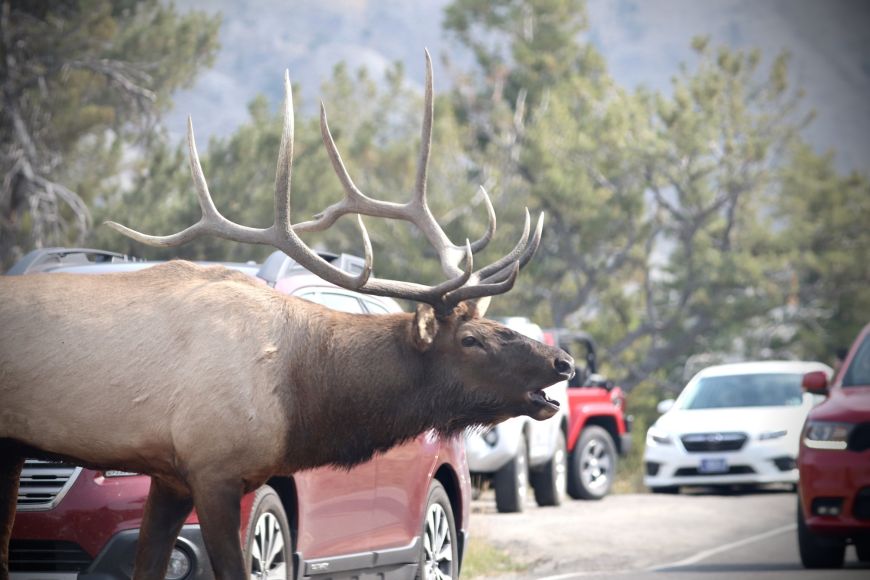 Again, before October 15 you will only be able to enter the North Entrance with a tour guide. If all goes well you will be able to drive yourself in after that. But you will benefit greatly from a guided tour as your guide will know where and when to spot the best wildlife, and will do the driving as well, along with providing spotting scopes, binoculars, bear spray, lunch, drinks, and lots of insider knowledge.

Blog post by Phil Knight. Phil Knight is Bozeman local, author, outdoor enthusiast, and guide for Yellowstone Guidelines. For tours and adventures in Yellowstone with Phil, contact us at 406-599-2960 or tours@yellowstoneguidelines.com