Steamboat Geyser - Yellowstone's Largest Geyser

Something very unusual is happening at Norris Geyser Basin this year. The world's largest active geyser has been erupting, not just once but ten times so far this year since March. The last times Steamboat Geyser erupted prior to 2018 were September 3, 2014, July 31, 2013 and May 23, 2005. The time between major eruptions of Steamboat has been between 5 days and 50 years historically.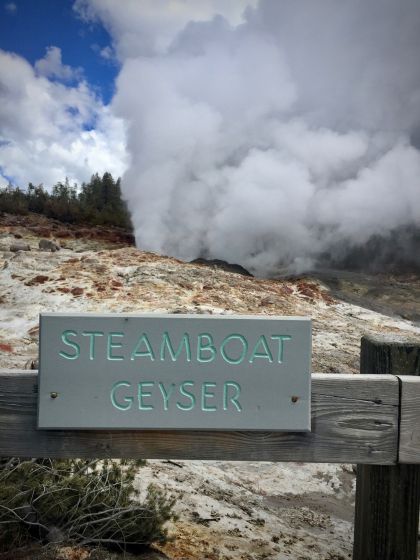 Steamboat as we know it did not exist prior to 1878. Before then it was most likely a smaller geothermal feature that decided it wanted to become a big geyser like some its friends. Yellowstone's geothermal features are very dynamic in the fact that they can become altered underground. Sometimes alterations go in a good way and others in a bad way. In any case, Steamboat became active in 1878 and was given the names Steamboat and New Crater Geyser. Both are still official names.

When the Steamboat Geyser was in its early years, some of the eruptions were very destructive to the surrounding landscape. Trees were killed, large rocks were thrown about and mud was flung everywhere from eruptions over 100 feet. As the years progressed, the eruptions were measured to over 250 feet. The largest measured eruption was up to 380 feet, three times the height of Old Faithful.

Steamboat is a cone-type geyser. Cone geysers will erupt in a column of water then a steam phase. The water phase of Steamboat will last between 3 and 20 minutes with a steam phase up to 24 hours. After a major eruption of Steamboat Cistern Spring, which is attached to Steamboat underground will drain and then eventually refill. Cistern has only been known to erupt twice as a geyser itself, in 1978 and 1982.

More to see at the Norris Geyser Basin
Norris has some other amazing features such as Echinus Geyser, the largest acid geyser in the world. This has not been active in some time. The second largest geyser at Norris is Ledge Geyser located above the Porcelain Basin in the vicinity of the Norris Museum. One of the most interesting features at Norris is Pork Chop Geyser, which was an active geyser that blew itself apart in a hydrothermal explosion.

Norris Geyser Basin is located at the intersection of three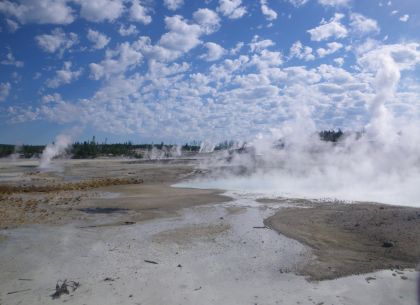 major geologic features. The features that intersect here are two faults, one that leads towards Hebgen Lake just north of West Yellowstone, and a second fault that heads to Mammoth Hot Springs. The third feature is the northwestern rim of the Yellowstone super volcano caldera. This may be why Norris is such a hot, dynamic geyser basin.

Norris Geyser Basin was named for Philetus W. Norris, the second superintendent (1877-1882) of Yellowstone National Park. He was the first to be paid for the position an amount of $10,000 a year starting in 1878. Norris also hired Harry Yount in 1880 to help halt poaching and vandalism in Yellowstone making Harry the first National Park Ranger.

Also located in the Norris Geyser Basin area in the entrance to the campground is the Museum of the National Park Ranger. This shows the history of the park ranger with different displays of uniforms and other fun antiquities. Please be sure to enjoy this wonderful museum, which is located in one of three soldier stations from the US Army's days in Yellowstone (1886-1918).

Yellowstone's geothermal areas are very special, protected places that must be respected. Staying on boardwalks and maintained trails is the best way to experience any geyser basins. Please respect our park in this way.

Blog post written by Frank Hessler. Come join Frank and the rest of the Yellowstone Guidelines staff on a private tour of Yellowstone National Park.