How to Plan Your Best Vacation in Yellowstone
Planning Your Yellowstone Vacation: Transportation, Parking, and Lodging
There is no place in the world like Yellowstone National Park. It should be on everyone's life list! Yellowstone is a big place, and deserves its own vacation. The world's first national park sprawls over 2.2 million acres of mountains, rivers, canyons lakes and forests, with abundant wildlife, thousands of hot springs and geysers, and gigantic waterfalls. You will find historic hotels, fascinating visitor centers, trails and boardwalks and lots of interpretive displays. It can be overwhelming to sort out what to do, when and where to go, where to stay and how to get there.


Plan For Three or More Days In Yellowstone
Plan at least 3 days to see most of Yellowstone, and one or two days in adjacent and equally spectacular Grand Teton National Park. Buy an annual park pass for $80.00 at usparkpass.com and you won't need to worry about entrance fees. Fly into Jackson, Wyoming or Bozeman, Montana and rent a car there. There is no mass transit in the parks but there are lots of group tours you can book that provide lodging and transport.

Hire A Professional Yellowstone Guide
To maximize your Yellowstone experience, hire a guide service, at least for a day. It's a great way to get oriented to Yellowstone and answer most of your questions. It's also the best way to find more elusive wildlife like wolves, bears, otters, foxes, mountain goats and bighorn sheep. There are many guide services available, but for the best experience, contact Yellowstone Guidelines. There also plenty of great guidebooks available, such as Yellowstone Treasures or The Geysers of Yellowstone.

Stay In or Near Yellowstone National Park
If you want to stay in or near the Park, book lodging as soon as possible. Go to yellowstonenationalparklodges.com, the website for Xanterra Parks and Resorts, who run all of the hotels and cabins and restaurants in Yellowstone. Cabins are best for quiet and privacy. You may want to stay in an iconic hotel like Lake Yellowstone, Old Faithful Inn, or Jenny Lake Lodge but these are pricey and hard to get into.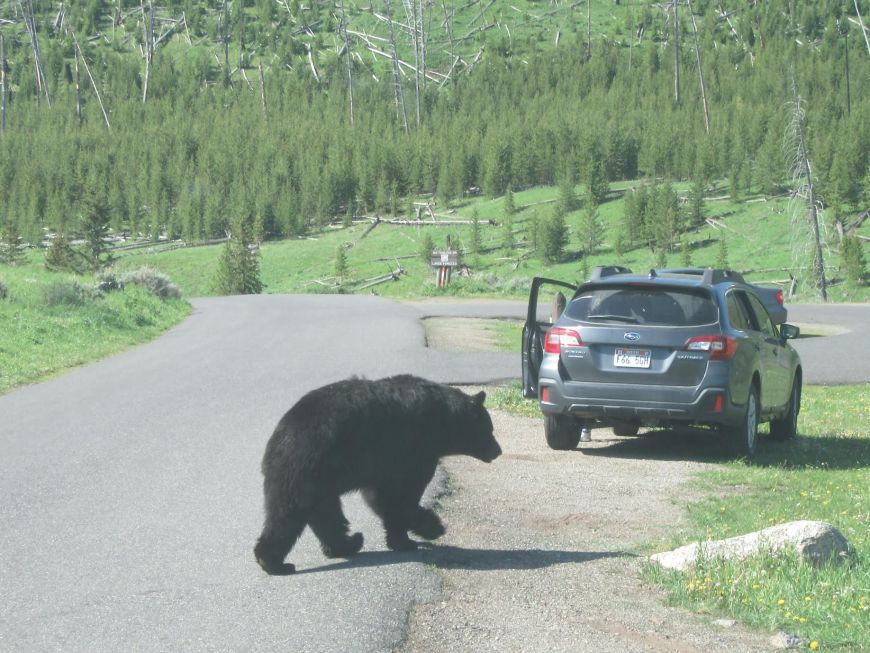 Be sure to make dinner reservations when you book your room in the Park, if you want to eat earlier than 9 PM. The earlier you can reserve any aspect of your trip the better off you will be and the more options you have.

If you can't get a room in Yellowstone or Grand Teton, there are many hotels and vacation rentals close to the Park, from Bozeman to Jackson to West Yellowstone to Gardiner to Cody. For a fun stay with kids try glamping at Yellowstone Tipi Village or Yellowstone Under Canvas.

Twelve campgrounds are scattered across Yellowstone, with more in Grand Teton, but most are first-come, first-serve. These fill up by mid-day every day. To be sure of a campsite you should reserve one months in advance through Xanterra at Madison Junction, Grant Village, or Bridge Bay campground or Fishing Bridge RV Park. There are also lots of national forest campgrounds near Yellowstone that can be reserved via Recreation.gov. Rent an RV and camp in comfort, or tent camp.

Know The Best Seasons in Yellowstone
Each season in Yellowstone has its appeal.
Spring – May and June - is best for wildlife, with animals in the valleys close to the road and lots of young critters out learning about their world. Weather can be rainy and snowy and many trails still snow-covered, but there are fewer people in the park. Most everything in Yellowstone opens by Memorial Day Weekend.

Summer – late June, July, August, early September – has the best weather, but is also crowded. Plan on lots of traffic and some difficulty finding parking at the more popular sights like the Grand Canyon of the Yellowstone, Norris Geyser Basin and Midway Geyser Basin. To avoid the crowds visit these place early or late in the day during mealtimes.

Fall – late September, October, early November – can be spectacular with aspen trees turning gold and elk bugling everywhere. Nights are frosty but days can still be warm (or snowy). Crowds will drop off again. Most park roads close about November 6 so plan your stay before that.

Winter - is the most magical and unique season in the Park. Travel is mostly restricted to snow roads in balloon-tired snowcoaches or on snowmobiles. Only a couple of hotels are open. But the snow covered landscape filled with steaming hot springs and ice-coated trees is like nothing else on Earth.

What To See in Yellowstone
What to actually see? If you drive the Grand Loop Road you can visit a lot of the highlights – Grand Canyon of the Yellowstone, Hayden Valley, Yellowstone Lake, Norris Geyser Basin, and of course Old Faithful. Each of these areas has much to offer and can provide a full day's exploration on its own. Be sure to take the easy side trip to Lamar Valley and nearby Slough Creek, where you will find some of the best wildlife viewing in the park. If you are into hot springs and geysers Yellowstone has far more than any place in the world, as well as the largest geysers on Earth.

Yellowstone is also a huge sanctuary for wildlife, with all of its 66 native mammal species. Look for bison, elk, mule deer, bighorn sheep, pronghorn antelope, moose, coyotes, foxes, and of course bears and wolves. Give ALL large wild animals plenty of room – none of them are tame and all can be dangerous and even deadly.

The National Park Service runs 7 excellent visitor centers in Yellowstone, as well as guided ranger walks and campfire programs. Rangers can answer lots of your questions. Check the seasonal newspaper you will receive at the park entrance station for a schedule of activities.

For variety and fun add on some activities like whitewater rafting, horseback riding, ziplining, and fly fishing. Horseback riding is available in the Park at Canyon Village, Mammoth Hot Springs and Roosevelt Lodge. Also consider a stagecoach ride and western style cookout at Roosevelt. Fishing is great in Yellowstone. Be sure to buy a Yellowstone fishing permit and learn the regulations. Or hire a fishing guide.

Hiking Yellowstone National Park
If you are willing and able, get out for a hike or two. Yellowstone is graced with about 1,000 miles of trails! Experience the backcountry for a taste of Yellowstone as it's always been – wild and untamed.

Of course, Yellowstone has lots of bears, both black and grizzly. If you spend a few days you are very likely to see one or more bears. If you give them their space they are not dangerous. However, any time you take a hike you should pack bear spray and know how and when to use it properly.

However you roll, Yellowstone provides. Show up, spend a few days, and you will see amazing sights you will find nowhere else, and build a bank of Yellowstone memories for a lifetime.

Blog Post and photos by Phil Knight. Phil Knight is Bozeman local, outdoor enthusiast, and guide for Yellowstone Guidelines. For tours and adventures in Yellowstone with Phil, contact us at 406-599-2960 or tours@yellowstoneguidelines.com.