Hikes in Mammoth Hot Springs - Yellowstone Hiking
Mammoth Hot Springs is known for having the largest active preserved travertine terraces on Earth. It's home to Fort Yellowstone, which was built between 1891 and 1913 when the US Cavalry was in charge of the Park. It is also a hotspot for the fall elk rut. There are also more amazing trails in the vicinity to begin your Yellowstone hiking experience.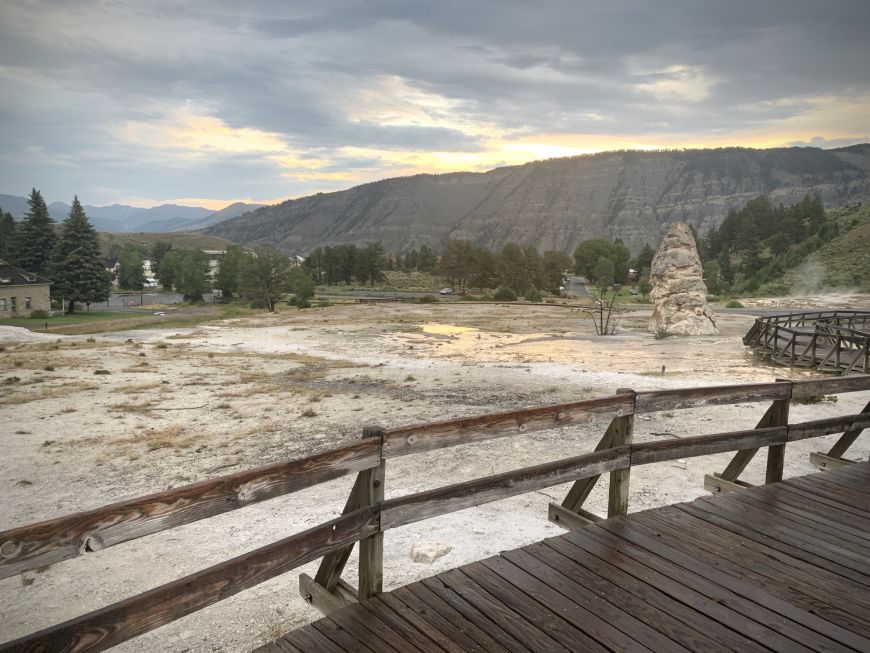 Here is a list of some our favorites Yellowstone trails and hikes in the Mammoth Area:

Wraith Falls -
This is a very short hike in Yellowstone for people of any skill level. Wraith falls is one mile round trip and flat besides the stairs and platform in front of the falls itself. During the spring runoff, Wraith Falls is at it best. The runoff usually lasts until the beginning of July at this capacity.

Wraith Falls Trail Info
Distance: 1 mile
Elevation Gain: 100 feet elevation gain and loss in 1 mile.
Trail Rating: Easy
Trail Type: Out and Back

Beaver Ponds Trail
The Beaver Ponds trail is a very popular five mile loop. The main trailhead for this hike is just north of the travertine terraces up Clematis Gulch. Clematis is a type of blue/purple wildflower that blooms in May and June in Yellowstone. Another interesting fact about the gulch is that it's the spot the first reservoir in Mammoth existed during the days the US Cavalry was steward of the park.

The hike starts uphill for a short while then heads north through some spotted aspen forests and sagebrush covered landscape. This is a good place in the park to see deer, elk and other animals. If you are hiking early in the year you may be lucky enough to see the dusky grouse courting, it's quite a show. Keep your eyes open for western giant puffball mushrooms as well.

After heading north you'll eventually reach the ponds, which you will loop around and make your way back south. The return trip will be mostly through sagebrush flats, which are very exposed to the sun. Make sure to wear a hat, sunglasses and bring sunscreen. The loop ends with a beautiful view of Mammoth Hot Springs from above.

Beaver Ponds Trail Info
Distance:
5 miles

Elevation Gain:
350 feet elevation gain in 5 miles.
Trail Rating:
Moderate
Trail Type:
Loop

Bunsen Peak Trail
Bunsen Peak is a great opportunity to easily bag a peak. It is named for German physicist Robert Bunsen who is known for inventing the bunsen burner. He also had early theories on how geysers work, but never visited Yellowstone.

Bunsen Peak was formed about 50 millions years ago when the Absaroka volcanics were in their heyday of mountain building. Today, hikers in Yellowstone have the opportunity to ride the switchbacks to the summit in 2.1 miles. Many people return the same way they came, but there are options to make a longer day out of the trip if desired.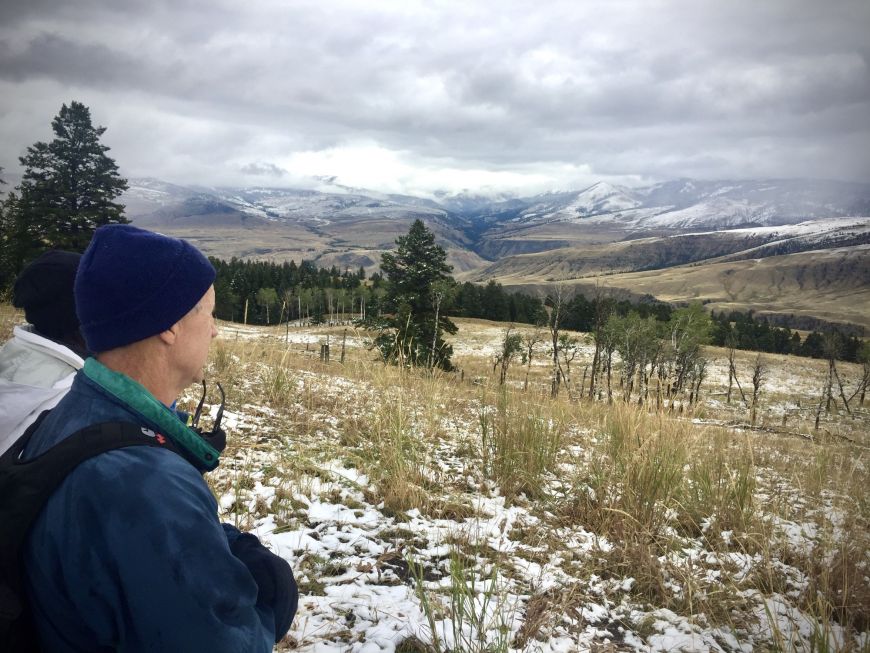 There's a small building and some radio towers on the top of the mountain and, of course, amazing views. To the north and east from the summit you get amazing views of Mammoth Hot Springs and Mount Everts and the Absarokas in the background. To the south and west you have Swan Lake Flats and the Gallatin Mountains. Summiting a mountain rewards you with amazing views of Yellowstone.

If you have more time you can keep hiking over Bunsen Peak and eventually end up on the service road that will loop you back to the parking lot. To make it a full day hike you can drop into the Sheepeater Canyon that holds the amazing 150 foot Osprey falls, the only catch is that you have to drop 800 feet into the canyon and hike back up.

Bunsen Peak Trail Info
Distance
: 4.6 miles
Elevation Gain:
1,300 feet elevation gain in 2.3 miles
Trail Rating:
Moderate to Difficult
Trail Type:
Out and Back
Boiling River
Last but not least may be the most famous soaking hole around. The Boiling River is a very well known spot to soak in Yellowstone. After a long day of hiking in Yellowstone this is a great way to end the day. To be a legal soaking spot in the park warm water and cold water must join. This is one of the few spots and it's very popular. To get the most out of your experience get to this magical place as the sun is rising over Mount Everts.
The earlier the better (when it's open). Don't get sneaky when it's closed. The law enforcement rangers love to give tickets to those out of bounds. The Boiling River is usually open sometime when the yearly runoff ends around July.

Boiling River Trail Info
Distance:
1.25 miles - round trip
Elevation Gain:
About 50 feet in .6 miles
Trail Rating:
Easy
Trail Type:
Out and Back
Blog post by Frank Hessler. Frank Hessler is a guide for Yellowstone Guidelines. For tours and adventures in Yellowstone with Frank, contact us at 406-599-2960 or tours@yellowstoneguidelines.com.