Yellowstone Winter Wolf Update for 2023
Winter wolf watching
is in full swing in Yellowstone. There is no better place in the world to see wild
wolves, and watchers have recently enjoyed some very exciting observations of these elusive predators. Yellowstone Guidelines is out in the field a lot searching for and observing wolves and many other species, from foxes to moose. We have a pretty good idea where to look and when. You can go yourself to look for wolves but you have a better chance of seeing them and learning about them if you go with a naturalist guide. Book your private wolf watching trip in Yellowstone. Seeing wolves of course is never guaranteed, but we will do our best to find them and help you see them.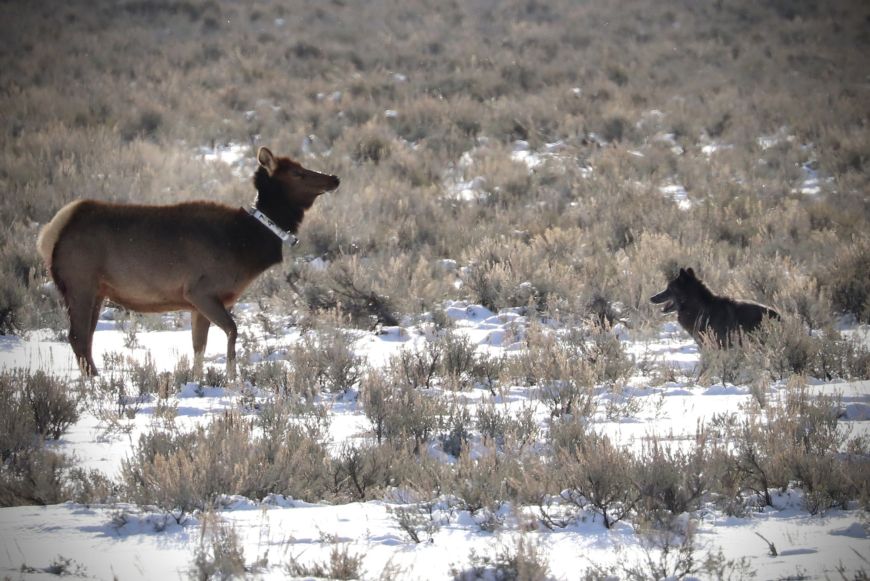 This winter, 2022-23, wolf watching has been challenging due mainly to low numbers of wolves
– there are fewer than 120 in the whole of Yellowstone Park. Prey animals such as elk and bison have been moving steadily to lower elevations due to a harsh winter – cold and snowy – in the higher elevations. You will currently see hundreds of elk and bison and many pronghorn and deer and even bighorn sheep in the area around Gardiner. But the wolves have not been seen frequently in that area probably because there are more humans there.

It's coming up on breeding season for wolves – late January and all through February. Wolves can have large litters up to 8 pups so hopefully the breeding season will be a big success and we will see all of the packs grow. The Junction Butte Pack traditionally dens and has their pups at Slough Creek. But don't expect to see any pups out of the den until at least late May. Eight Mile or Lupine Pack wolves may den again on the Blacktail Plateau. Wapiti Lake wolves usually den in Hayden Valley either east or west of the road.
Some of the first questions I often get on a tour are: will we see any wolves, how many wolves are there and how many packs. Here's an update on the current Yellowstone wolf packs, to the best of our knowledge, as of this writing. An official wolf watching report will be released in March 2023. The numbers refer to radio collars on wolves and the F or M is for Female or Male.

Current Wolf Packs of Yellowstone
Rescue Creek Pack - 12 wolves including 1278M and 1273M. Some newly collared. This pack split from the Junction Butte Pack 2 years ago. Seen in Elk Creek are, Hellroaring Valley and the Blacktail Plateau.
Junction Butte Pack - 22 wolves after 1229F was recently killed by a trapper outside the park. Some Junction wolves were recently collared and others got new collars. Wolf 907F has regained her place as alpha female of this largest Yellowstone wolf pack. She is, at 10 years, the oldest wolf in the park. Seen in Little America, Slough Creek, and Lamar Valley, as well as on Specimen Ridge. Shrimp Lake Pack Consists of wolf 1228F, her mate and 2 pups. Seen in Soda Butte Valley.
Eight Mile Pack

-This pack was 11 gray and one black. Now unknown number but small. Seen mainly on Blacktail Plateau and close to Gardiner. Observations of the Eight Mile Pack are kept quiet for the safety of the animals.
Lupine Pack - 8 or 9 wolves including 1232M. This pack split from the Eight Miles leaving the previous pack with few wolves. Seen mainly on Mt. Everts near Mammoth Hot Springs and the Blacktail Plateau.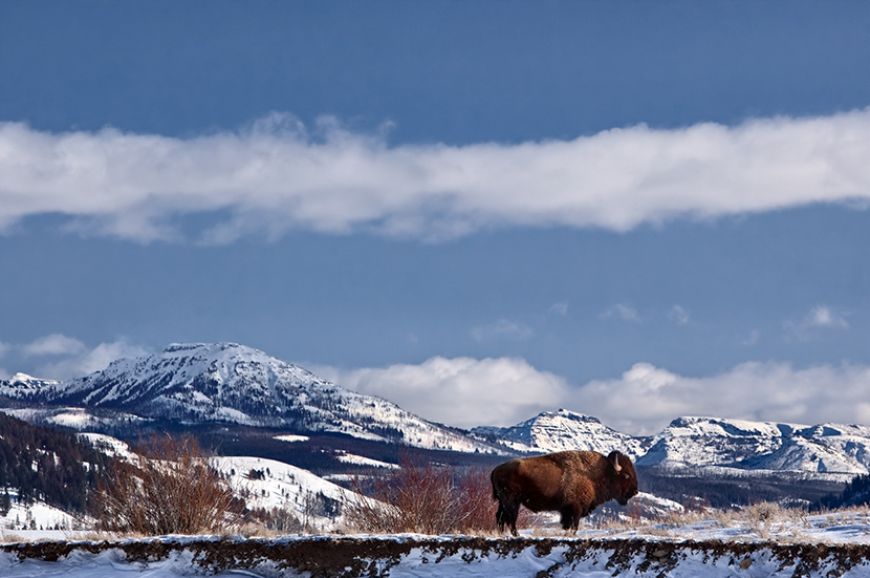 Shrimp Lake Pack - The Shrimp Lake Pack came together last winter. The alpha female is 1228F, an former member of the Junction Butte Pack. The pack is small with 4 members - 2 adults and 2 pups. Shrimp Lake Pack is best seen in the northeast corner of Yellowstone.
Wapiti Lake Pack - 10 wolves or more. Seen mainly in Interior Yellowstone this winter. The Wapiti Lake Packs traditional territory is in the Hayden Valley. The Wapitis have also been seen north of Old Faithful in the Firehole Valley.
Mollies Pack – Mollies are one of the oldest wolf packs in Yellowstone. The Mollies cover the Pelican Valley of Yellowstone. The numbers of Mollie wolves are unknown, but thought to be small. 8 to 11 wolves is the estimated size of the pack.

Cougar Creek Pack - More information to come about Yellowstone's Cougar Creek Pack
Bechler Pack

– The Bechler region of Yellowstone is in the southwest corner of the park. The area is remote and hard to access for wolf watchers. The Bechler Pack numbers are unknown number and rarely observed.
Winter Wolf Watching in Yellowstone
If going it alone you will need good winter clothing and a reliable vehicle with snow tires. You can drive
the road from the North Entrance at Gardiner to Mammoth Hot Springs to Tower Junction, Lamar Valley
and Cooke City Montana, where the roads ends in winter. Wolves are often seen in Lamar Valley, but
other locations can be equally good – Blacktail Plateau, Hellroaring Overlook, Elk Creek, Tower Junction,
Little America, and Slough Creek, as well as Soda Butte Valley and Round Prairie.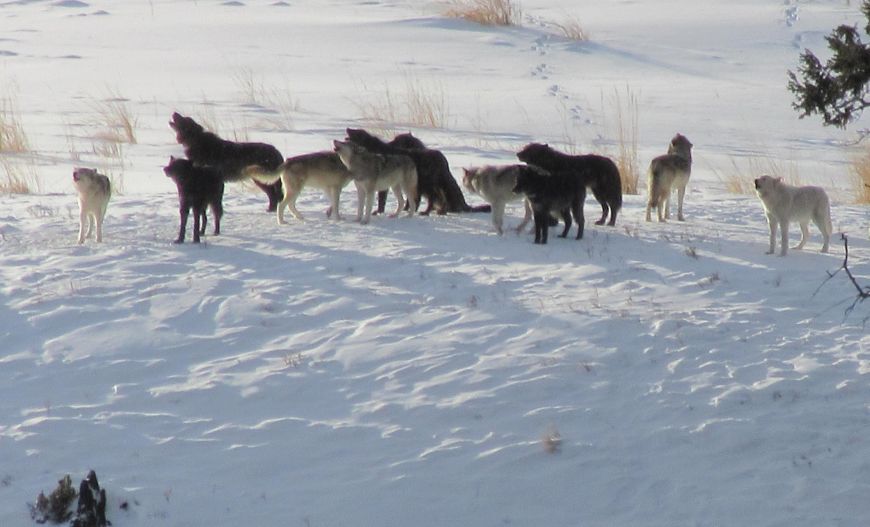 A spotting scope and tripod are essential and for photography plan on the biggest lens you can afford and a good tripod. A phone mount for your scope can work well also for photography and video. Good binoculars are also important – I use them to scan the landscape for wildlife then try to zoom in with the scope. If the animals are moving quickly it is better to follow them with binoculars then to try to track them with a scope. Wait until they slow down or settle for that.
Of course you can watch for folks parked along the road with scopes and cameras set up.
Check which way they are looking. Find a parking place – often challenging as there are far fewer parking spots in winter. Be careful parking so you do not get stuck and don't block the road. Get out and look for yourself to see if you can find what people are seeing. If not, then ask around; most people are happy to share information and maybe give you a look through their scope. Also listen if it is quiet – wolves are very vocal and often howl repeatedly. It's an unforgettable sound and you will know immediately it's a wolf or wolves.
If you are really observant and lucky you may see wolves chasing prey – usually elk or bison.
Elk make up the majority (about 60%) of wolf kills with bison making up about 16%.
Wolves hunt in packs to take down larger prey animals and usually this involves pursuit. In winter, animals like bison or deer or elk are conserving energy and are unlikely to run unless they have to. So if you see, for instance, a group of elk bunched up and all staring at something, or better yet running for their lives, they are probably getting chased by wolves. In spring or summer it could be bears doing the chasing. Sometimes it turns out to be people hiking or skiing that spooks the prey animals, but it always pays to watch and see what is going on.
Look also for groups of ravens and magpies and possibly coyotes and eagles. These scavengers are often seen at carcasses killed by wolves. Find the ravens and you may find the wolves, either still eating on the carcass or bedded down nearby. Coyotes may approach the carcass to eat on it if the wolves are done with it but must be very cautious since wolves will kill them if they catch them.

Yellowstone Wolf Project Leader Retires
There are changes afoot in the Yellowstone Wolf Project as well.
YWP leader Doug Smith has just retired
from the National Park Service. Doug coordinated and oversaw the wolf reintroduction program in Yellowstone from the start of it in 1995 when 14 wolves were brought from Canada. Doug's legacy is one of the most successful predator reintroduction programs of all time. The Yellowstone Wolf Project continues Doug's work with tracking and learning about wolves. They still tranquilize and radio collar wolves in early January and keep observations going all year.
Wolf advocate Rick McIntyre is still out in the field every day observing wolves and helping folks see them. He has recently published 4 books about Yellowstone wolves – The Rise of Wolf 8 (2019), The Reign of Wolf 21 (2020), The Redemption of Wolf 302 (2021), and The Alpha Female Wolf (about the 06 Female) (2022).

Update on wolf hunting in Montana
Wolf hunting and trapping is ongoing in Montana on the northern border of the park. At least 19 Yellowstone wolves were killed in Montana during the 2021-22 winter season including the entire Phantom Lake Pack and some wolves from the Junction Butte and Eight Mile packs. Several other wolves were killed in Wyoming. This was the first time Yellowstone's wolf packs had suffered major losses from human hunting, disrupting pack structures and seriously impacting 27 years of wolf research. This winter the quota for wolves in hunting districts 313 and 316 in Montana was reduced to 6. As of this writing at least 5 have been killed including Junction Butte wolf 1229F trapped about January 19. Once that quota of 6 is killed no further wolf hunting or trapping can occur in these districts until next fall.
Yellowstone's wolves are resilient and persevere through all seasons and many challenges. We can only hope the packs will once again expand and keep bringing their wild energy to the magical landscape of Yellowstone. Support the wolves of Yellowstone by coming out to see them!

Follow Along with the Wolves in Yellowstone
For more detailed information see the annual reports from the Yellowstone Wolf Project at
https://www.nps.gov/yell/learn/nature/wolf-reports.htm
Blog post by Phil Knight. Phil Knight is Bozeman local, author, outdoor enthusiast, and
guide for Yellowstone Guidelines
. For tours and adventures in Yellowstone with Phil, contact us at 406-599-2960 or
tours@yellowstoneguidelines.com