Things To Do in the Yellowstone Area
Get more out of your Yellowstone National Park experience and enjoy some of our family friendly adventures. The greater Yellowstone ecosystem is a treasure of natural riches.
From the high mountain peaks through the thick forests down to the pristine rivers, outdoor adventures are abound. There are many exciting new experiences for you and your family. Let us book your adventures and help design the perfect Yellowstone vacation. We know the area and work with the best activity guides in the region. Adventures cater to everyone.
Whitewater Rafting
Raft the mighty Yellowstone River! With our partners in the area Yellowstone Guidelines will help enjoy the sights, sounds, and adventures of this wild river.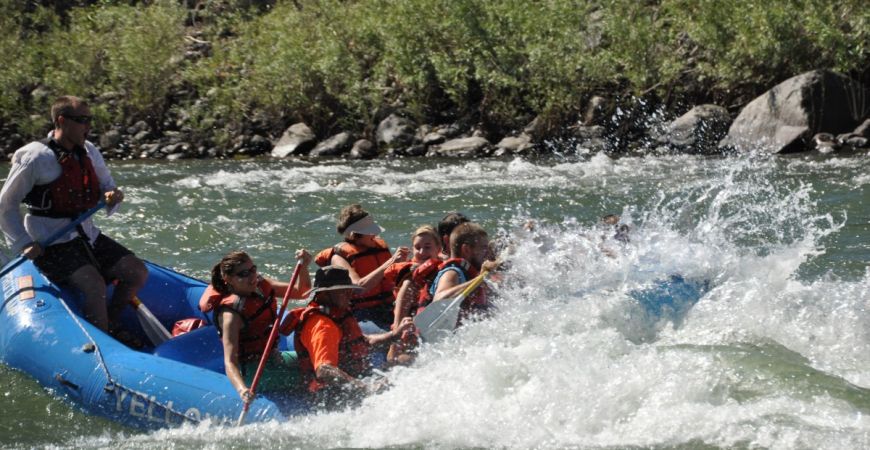 Half-Day Whitewater Rafting:
This is the most popular option. Paddle down this exciting 8-mile stretch of river and hit the class II-III rapids like Loshers, Pickets and Bridge Rapids. Enjoy the magnificent views of Electric Peak and a great chance to see a variety of wildlife that the greater Yellowstone area offers. Half-Day Trips are ideal for families, first time boaters, and a perfect way to cool off on a summer day.
Full-Day Whitewater Rafting:
For a true whitewater experience enjoy a full day on the mighty Yellowstone River. Full-Day trips offer the rapids of the Half-Day trip. Relax along the river and enjoy a delicious and hearty lunch. Finish the day with the exhilarating rapids of Yankee Jim Canyon.
All whitewater trips include life vests, wetsuits, splash gear and water shoes!
Fly Fishing in Montana and Yellowstone Area
Montana and the Yellowstone Area is known for its mountains, forests, wildlife and Blue Ribbon trout waters that keeps people coming back year after year. These pristine fisheries can have over 2,000 fish per mile of river making them some of the best in the world.
Yellowstone Guidelines has partnered with the best guides in the region. Let a professional guide help you land those big fish that make stories memorable. We offer guided fly fishing trips in Montana for all skill levels. Whether you have never fished before in your life, or you just need a little guidance from a local expert, we've got you covered. We can accommodate groups large and small and guide on a variety of water including the Yellowstone River, Boulder River, Stillwater River, West Boulder, Paradise Valley
Spring Creeks, and over 40 miles of privately leased walk-wade rivers.
Horseback Riding
Take a scenic horseback ride through Yellowstone and the surrounding Absaroka - Beartooth Wilderness area and the Gallatin National Forest. Rides are family friendly and set a leisurely pace. Half, Full, Multi-Day rides are available.